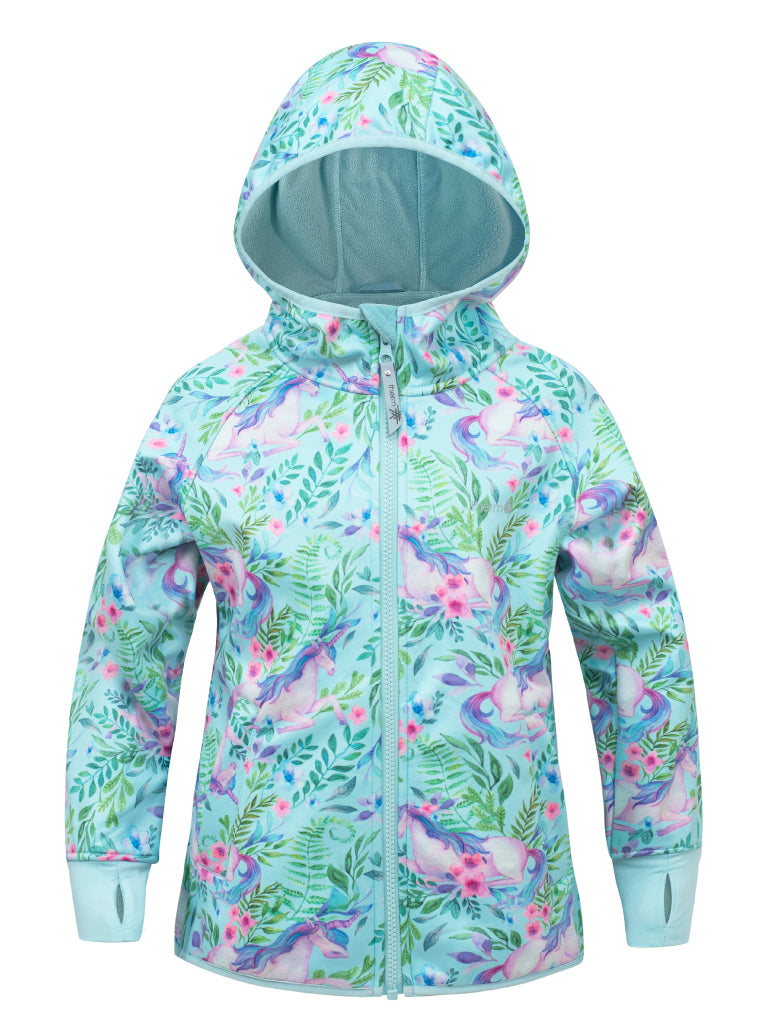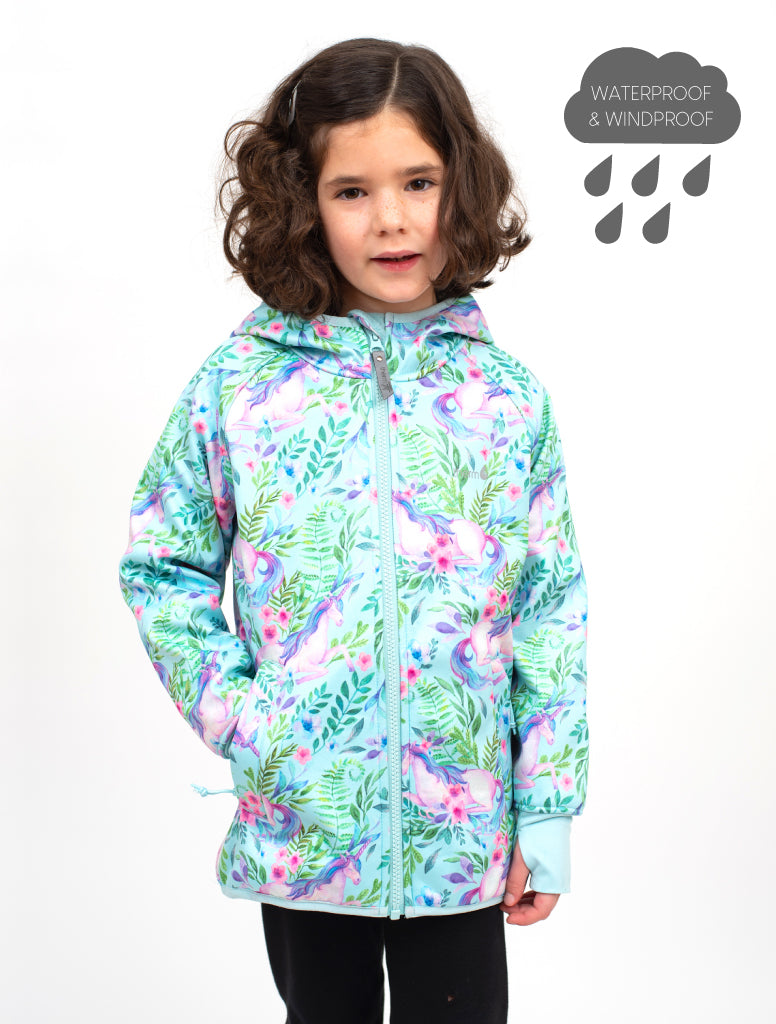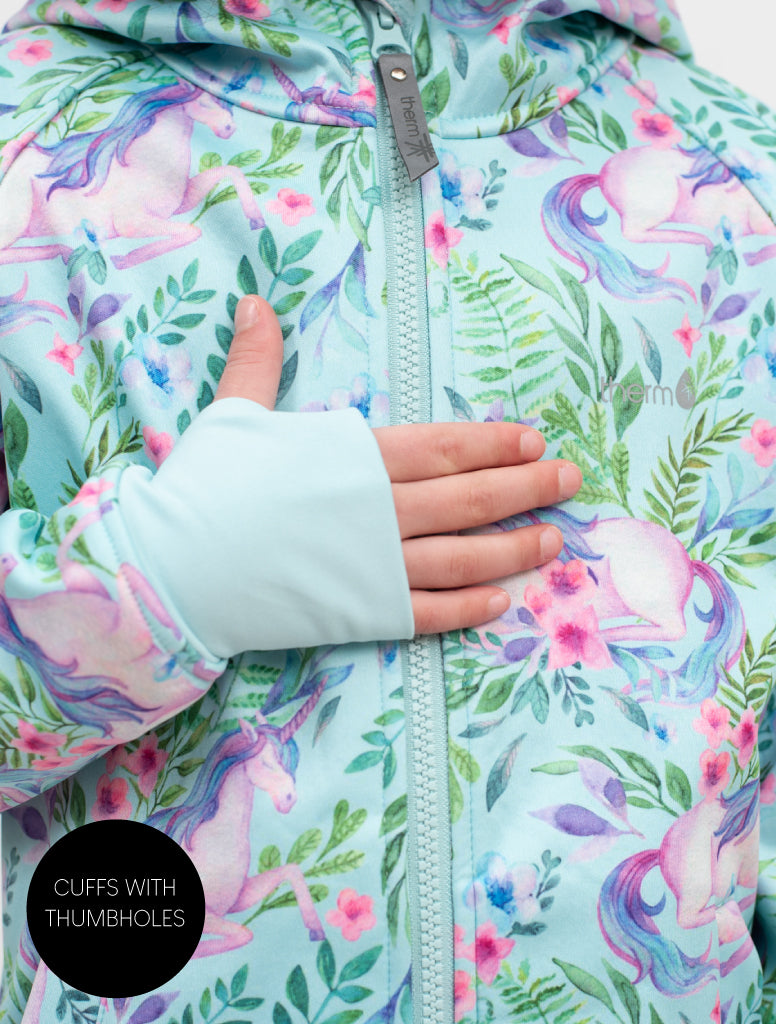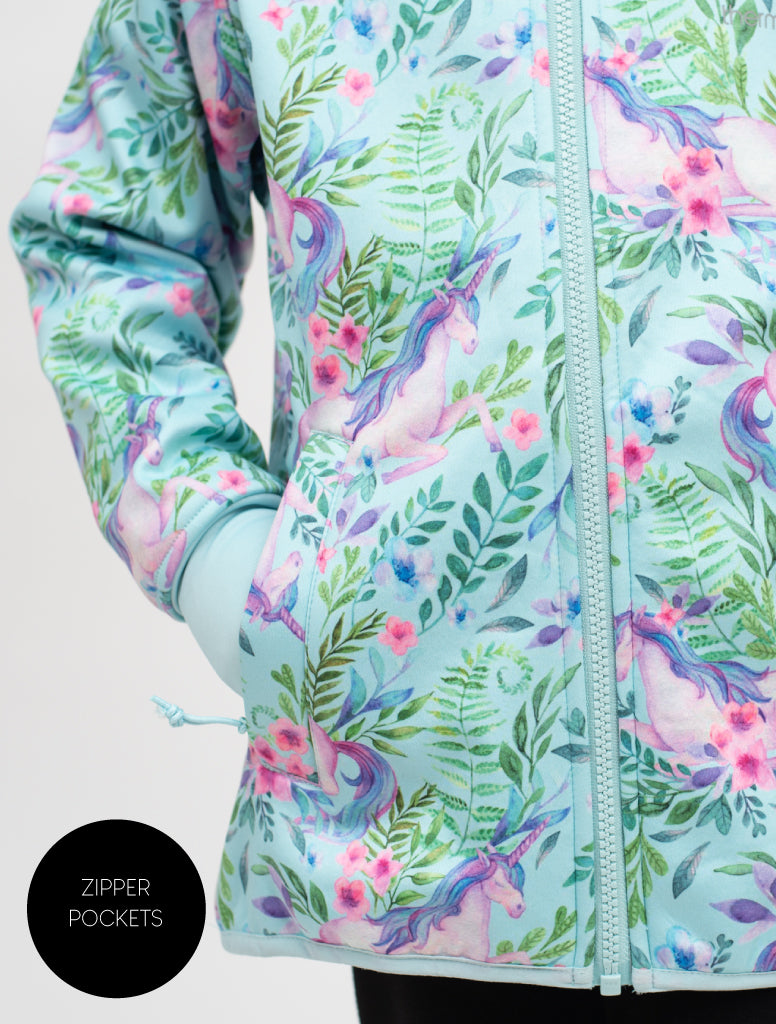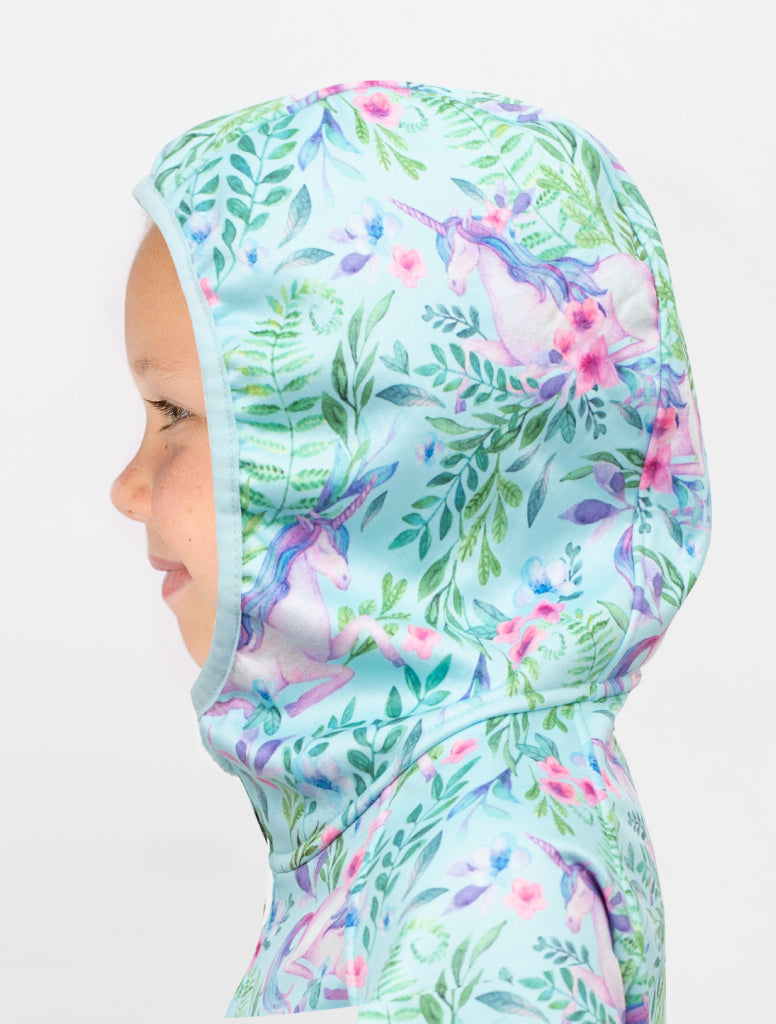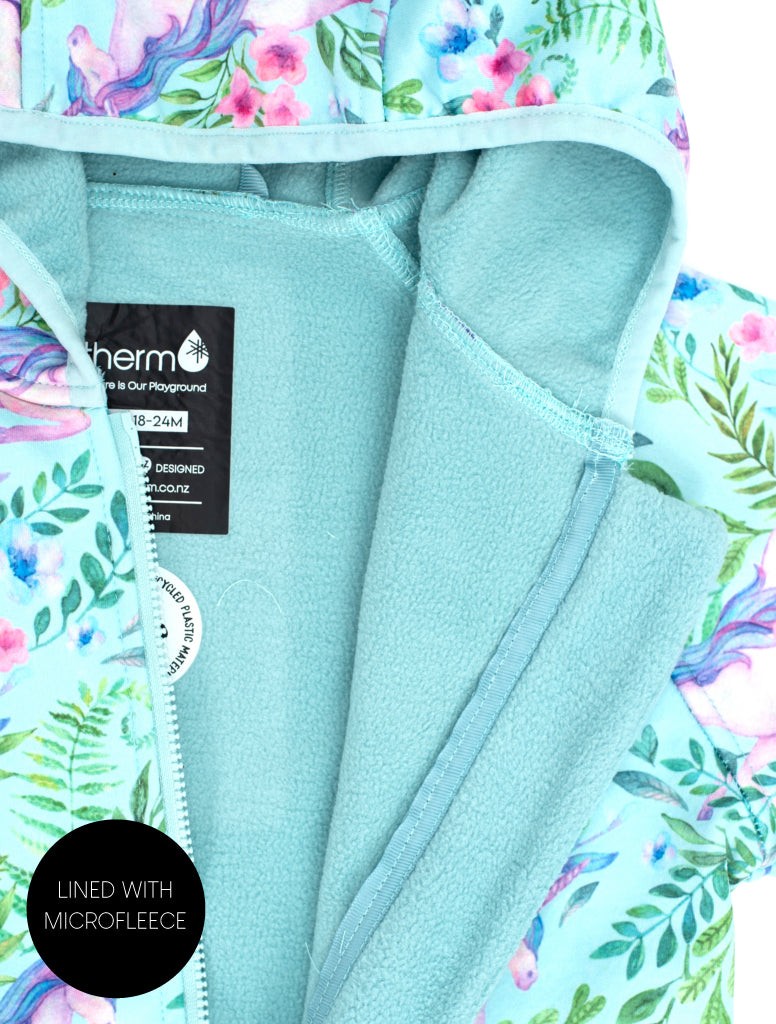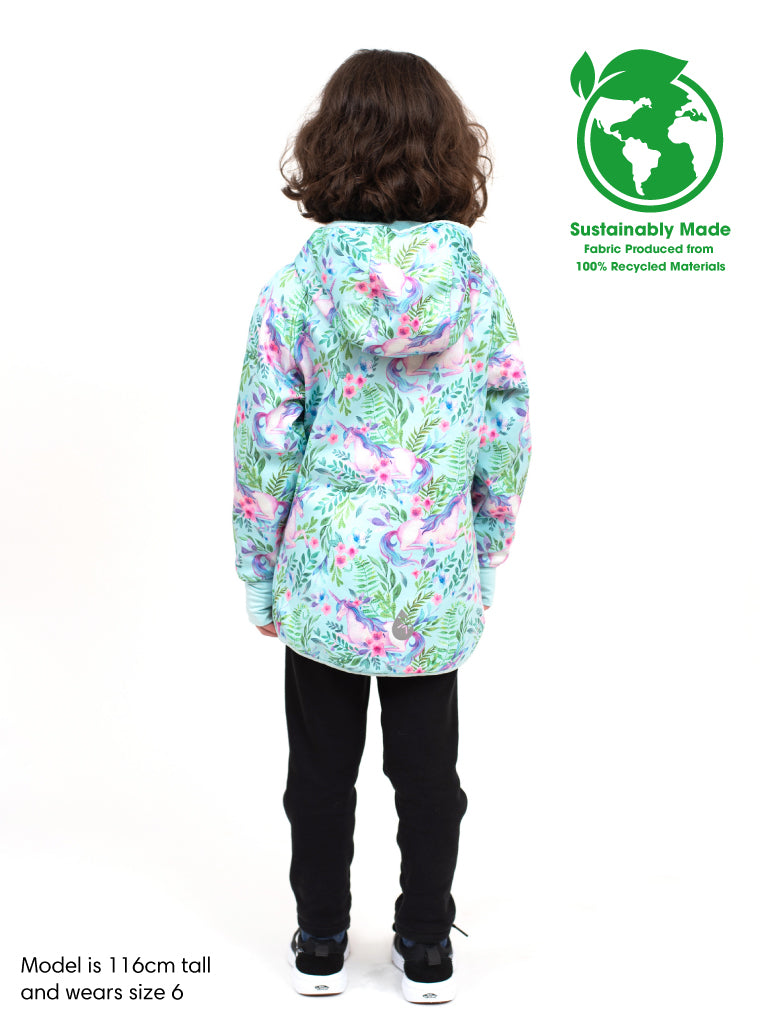 All-Weather Hoodie - Unicorn Garden | Waterproof Windproof Eco
Size chart
The measurements below show the 'perfect' size for the garments. If your child is in between these specified measurements (primarily for height) we recommend to go with the next size up to allow for growth. 
As our products are outerwear, they are a generous fit across the body - this will allow for 1-3 layers and larger body types, and all of our waistbands are elasticated for easy fitting. The most important measurement is height as this determines the sleeve/pant length.
Scroll down for diagrams on how to measure your child, and at the bottom of the page we have a link to our actual garment measurements if you would like to compare to items at home.
Or send us an email at www.thermkids.com and we will be happy to offer advice. 
Regular price
$42.99
Sale price
$30.09
/
$8 US wide shipping or free on orders over $50
Buy now, pay later with Sezzle or Shop Pay
In stock, ready to ship

Inventory on the way


Fabric: 10,000mm Waterproof & Windproof 100% Recycled rPET Tricot Shell with bonded 100% Recycled rPET Microfleece lining
Combines the soft comfort of a hoodie with the full weather protection of a raincoat. Made for all weather - wind, rain and snow. A versatile jacket with a soft and stretchy feel, bonded with ultra-soft microfleece lining for warmth. Even the most stubborn child is happy to wear their 'raincoat in disguise!'
Non-Toxic, Free from PFCs, PFAs, Phthalates and Lead
Most comfortable from 60° to 23°F depending on layering (thermal underlayer and fleece recommended at 23°)
Eco-Friendly: 100% Recycled rPET fabric - made from used plastic products such as water bottles.
Soft and stretchy outer fabric with microfleece lining in the body, sleeves and hood.
Machine washable and dryer safe.
Extra length at the back for added rain and wind protection.
Extended collar with soft zipper guard to protect the neck..
Stretchy handwarmer cuffs with thumbholes to keep hands protected.Keep them down in the cold, or fold inside in heavier rain.
Reflective features front and back for visibility in low light.
Fleece lined pockets with zippers for extra cosy hands when it's chilly outside.
Unisex Fit
Outer: 100% Recycled rPET Fabric - made from recycled water bottles
Lining: 100% Recycled rPET Microfleece Fabric - made from recycled water bottles
Packaged in Recycled Ocean Plastic polybag
Shipped in Recycled Ocean Plastic mailer
Machine washable and dryer safe!
Just throw your Therm garment in the wash with your normal load - we recommend a warm wash with liquid detergent, not powder. 
Plus all of our garments love the dryer! In fact the dryer is needed for the waterproof coating. If your Therm garment doesn't seem as waterproof as it was, (or the SplashMagic pattern isn't appearing well) just dampen it again and dry it fully in a medium to hot dryer. 
IMPORTANT: Don't forget to zip up all zippers before washing and drying!
We aim to ship all items in sustainable and eco-friendly packaging! Thanks to our partners at betterpackaging.com
Within USA:
Flat rate $5.00. Free delivery on orders over $40
Orders are shipped with tracking via UPS from our location in Wenatchee, Washington. Orders leave our warehouse same day (before 1pm) or next business day if placed after 1pm. 
Transit times:
1-2 days within Washington State
2-3 days West Coast US
3-4 days Mid West US
3-6 days Eastern US
Want to ship to Canada? Visit our Canadian store www.thermkids.ca
Unfortunately we do not ship internationally at this time.
Extended Holiday Return Period: Due to the holiday season, orders placed from the 15th of November can be returned until 15th of January.
30 day returns/exchanges + 12 month warranty. And we cover the return postage!
Read more: Exchanges and Returns
Not sure which jacket to choose? View our guide